KCMSSL members — Glenn Bennett and Larry Varner — were recognized Monday, April 16th, at a ceremony at JOCO by the Heart Safe organization for helping to save senior softballer Gary Eager's life after he suffered a heart attack on the field last summer. Nothing we can say can ever adequately express our admiration and respect for what Larry & Glenn did.  All the accomplishments we all experience on the field pale to what Larry and Glenn did.
Thank you boys! Award and recognition well earned!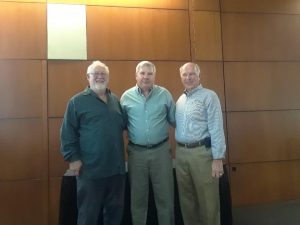 2017 Award Winners
Congratulations to individuals recognized for their impact on the Kansas City Senior Softball League. Ten athletes were recognized as Rookie of the Year in their leagues. Twelve were selected to receive the Wes Weddle Award which recognizes fair play, love of the game and respect for teammates, opposing players and umpires.
Award winners in the leagues include:
| | | |
| --- | --- | --- |
| Women's Leagues | Wes Wedldle | Rookie of The Year |
| Silver | Connie Schulz | Tara Lavelle |
| Gold | Brenda Foreman | Renee Harders |
| | | |
| Men's Leagues | | |
| Sunday, Black Bob | No Nominations | No Nominations |
| Monday Draft | Barry Gordon | Brock Simmons |
| Tuesday, Independence | Ted Barkley | Gene Combs |
| Tuesday, Black Bob, Gold | Rocky Osborn | Mike Love |
| Tuesday,  Black Bob, Silver | Bob Arnold | Tony Roberts |
| Wednesday, Hartman | Craig Childress | Troy Catanzaro |
| Thursday, Heritage, Gold | Lee Tenold | Kirk Searcey |
| Thursday, Heritage, Silver | Ken Simons | Mike Yager |
| Thursday, Roe, Draft | Walt McKenzie | Jack Shelton |
| Saturday, Competitive | Vernon Coates | No Nominations |
| Saturday Draft | John Mondi | No Nominations |
Election for 2018 KCMSSL Board of Directors
A record number of 321 ballots were placed in the election culminating with the Annual Meeting held on December 9th, 2017. Susan Scholler, Bobby Gregg, and Mark Splettstaszer were up for re-election. Jody Myers, who had filled the seat vacated by Bill Klinkenberg in 2015, declined to run for re-election. We appreciate Jody's service during this tenure.
When the ballots were counted, the four slots were filled by five candidates as there was a tie among candidates. Bobby, Susan and Mark were re-elected, along with candidates, Rocky Osborn, who served from 2014 through 2016 and Barry Gordon who is new to the board. Congratulations to Susan, Bobby, Mark, Rocky and Barry. Also appreciated are the other candidates who stepped forward and professed a willingness to serve the greater softball community. These include Dave Barrigan, Terry Davis, Chuck Tipton, Gene Webb and Ann Willkett.