You Can Submit Your Own Team Shots or Action Shots To: kcriffle@gmail.com
---
Click Links below  to Watch the Videos:
Above the Law Brings Home Gold
from World Masters
 Twenty-three teams participated in the women's AAA level at the World Masters held from October 6tth through 8th in Las Vegas, Nevada. Above The Law won their three games on Friday but lost their first Saturday game in a 20-19 slugfest with Still Swinging from Nevada. With their backs against the wall, they gamely fought back to win the next two games to stay alive for the Sunday games. It took three wins to earn the right for a rematch with undefeated Still Swinging. After doing so, Above The Law, managed by Brenda Foreman, took both games with scores of 14-10 and 11-10.
Congratulated to Above The Law for winning gold. Still Swinging finished second, with Hawaiian Connect taking third and TABU from California taking fourth.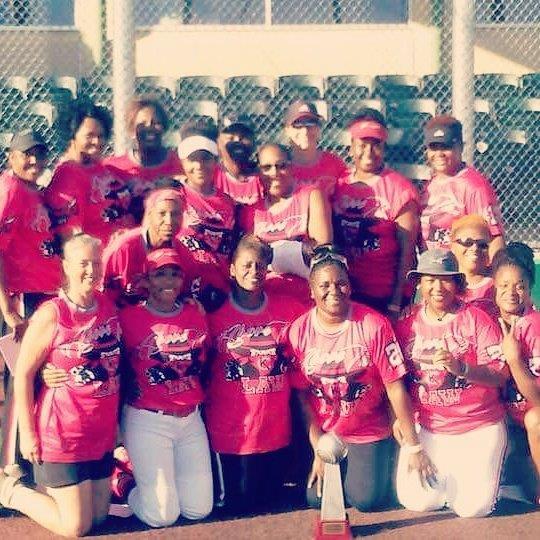 Front row (L to R): Pattie Vanvleck, Della Tolliver, Brenda Foreman, Lisa Walton, Shonte Davis, Gailya Young
Second row: Emma Harris (red scraf on head), Carmon Talley (red/blonde hair)
Third row: Yolanda Mason (white visor), Nicole Spencer (shades)
Forth row: Joyce Hickmon (black visor), Vivion Rodgers, Melissa Carouthers, Ursula Copeland, Stacy Bryant, Patricia Ball, Toy Branscomb
2017 All Star Games & Picnic
Senior Softball at the K
Diamond Girls vs. Antiques
Monday, April 10, 2017