ANNUAL ALL-STAR GAMES & PICNIC
This year's All-Star games will be played July 23, 2016 at Hartman Park – 700 SW Old Pryor Rd, Lee's Summit, MO  64081 https://goo.gl/maps/QLspiYQd4Qx) .
Every KCMSSL member (whether playing in one of this year's All-Star games, or not), and their guests, are invited to come watch the games, enjoy the festivities, and partake of the picnic menu.   This year's "free" lunch will consist of pulled pork, sliced ham and sliced turkey, sausages/brats, hot dogs, BBQ beans, potato salad, cole slaw, chips, soft drinks, and water.    We will be there – rain, or shine.
If you have questions, please contact any one of your board members – http://kcseniorsoftball.org/?page_id=70 , or your conference coordinator.
 July 23 , 2016 All Star Game Times & Teams

Thursday Draft (8:30 #1)        vs             Sat Draft (8:30 #1)
Mgr. Marty Peters                                         Mgr. Chuck Bua
Lee Acciacca                                                      Jim Blaufuss
Dennis All                                                            Terry Hazelrig
Gary Eager                                                          Tom Reynolds
Steve Stars                                                          Dick Skinner
Glenn Bennett                                                   John Mondi
Tom Handzel                                                      Ed Soltz
Denny Ibbotson                                                John Swarts
Walt McKenzis                                                  Paul Heacock
Robert Hill                                                            Mark Van Auken
Ron Branan                                                          Bubba McGuire
Charles Kearney                                               Berry Gordon
Denny Ingerisano                                             Jim Jones
Sat. 60's silver/bronze (8:30 #2)   vs    Tuesday 60's silver(8:30#2)
Mgr. Barry Gordon                                         Mgr. Terry Davis
John Lofflin                                                          Bob Arnold
Jody Myers                                                          Larry Hightower
Fred Fleming                                                      Sheldon Peters
Phil Jacobs                                                           Joe Vankempen
James Bullock                                                    Randy Batchelder
Danny Baird                                                        Mike Johnson
Larry Branson                                                    Dean Bunch
Louie Arrendondo                                          Jim Graham
Steve Schaum                                                    Cliff Jackson
Don Walter                                                         Scott Pemberton
Richard Hite                                                       Dave Pattison
Bill Harris                                                             Jon Henderson
Terry Patnode
Jon Schweer
Tom Duke
Women ( 8:30 #3)
Mikaela Smith                                             Sue Miller
Donna McGeehan                                    Vonda Williams
Nancy Smith                                                Marj Locker
Shana Palla                                                   Nichole Spencer
Karen Wrigley                                           Jodi Hilton
Michelle Wilson                                        Sharlene Dunne
Jeannine Kimerer                                    Kris Rooff
Trudy Lukenbill                                         Bev Allen
Dana Reynolds                                          Susan Enyeart
Jean Keating                                              Michel Hall
Stacy Roberts                                            Susan Scholler  Alt.
Jen Latteman                                             Lisa Kraxner    Alt.
Tonya Morgerson                                   Bobbi Ireton    Alt.
Tara Little                                                    Lynn Dischner  Alt.
Kristy Kinney                                            Patti VanVleck  Alt
Tuesday 55 Gold (9:45 #1)   vs      Thurs. Silver/Bronze (9:45 #1)
Mgr. Rocky Osborn                               Mgr. John Lofflin
Don Morris                                                 Earl Jacobs                     Larry Walter
Craig Childress                                         Terry Old                        Ken Vokac
Ron Sanell ( Jeff Weinstein )             John Shoebrook
Jim Doarn                                                    George Callas
RC Chancellor                                           Steve Carroll
Mark Graham                                            Andy Sauber
Scott Hunter                                              Mike Vanausdall
Gary Aslock                                                Bill Mcafee
Don Brown                                                 Curt Wilson
Greg Main                                                   Robert Patrick
Terry Kirch                                                 Dean Cassity
Bill Radford                                                Dave Pattison
                                                                          Jon Henderson
Monday Draft (9:45 #2)      vs         Tuesday Draft(9:45 #2)
Mgr. Jim Jones                                          Mgr. Ken Stenson
Dave ( bear ) Barragan                         Dave Kirk
Doug Bennett                                           Mike Reynolds
Fred Preusch                                             Gene Webb
Dale Filginger                                            Mike Abernathey
Todd Leeper                                               Brad Zerkel
Dave Hendrikse                                       Karl Frickenschmidt
Jerry Old                                                      John Spinola
Randy Smith                                               Louie Drackert
Victor Franklin                                         Royce Richberg
Dave Bennett                                            Mark Bauman
Mike Worthy                                             Thomas Dean
Bill Harris                                                     Steve Jones
 Co­Ed  ( 9:45 # 3 )                                       
Wednesday Gold (11:00 #2 )    vs  Thursday Gold (11:00 #2)
Mgr. Jeff Weinstein                                Mgr. Ted Wright
Virgil Horne                                                 Steve Krull             Dave Barrigan
Gene Schemmel                                         Kevin Barnes
Jim Beaman                                                  Rick Bryan
Terry Pilgram                                              Franklin Tyer
Will Lallemont                                            John Beedy
Anthony Boehm                                         Sean Gregory
Gary Pumphrey                                          Gary Schnettgoecke
Alt.  Brace Bailey                                        Ray Mattinly
Alt.  Daniel McLntosh                              Greg Lee
Alt.  Eric Gault                                              Mike Rathjen
Alt.  Danny Joyner                                     Dave Stewart
Jeff Weinstein                                             Mike Green
Floyd Foster                                                 Marc Graham
                                                                             Rich Chancellor
---
MIDWEST DRIVING SCHOOL TOURNAMENT TEAM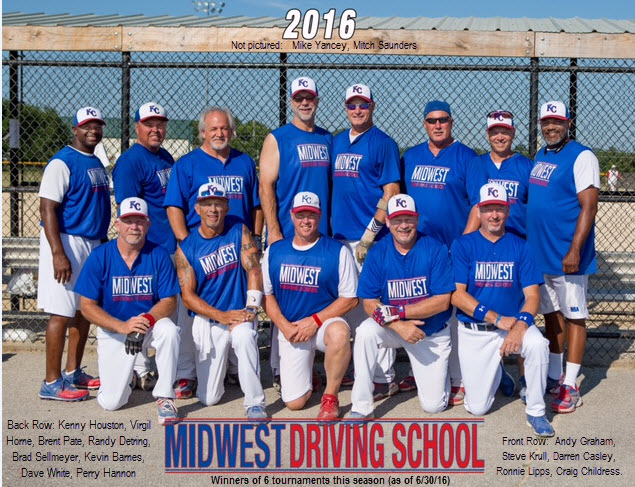 Back Row: Kenny Houston, Virgil Horne, Brent Pate, Randy Detring, Brad Sellmeyer, Kevin Barnes, Dave White, Perry Hannon
Front Row: Andy Graham, Steve Krull, Darren Casley, Ronnie Lipps, Craig Childress.
Not Pictured: Mike Yancey, MItch Saunders
---
League Sheets Website for Online Registration