Online Voting Ends at Midnight December 8th
---
 
---
KC Bombers – Thursday Heritage Park Gold Division
2nd Session Champions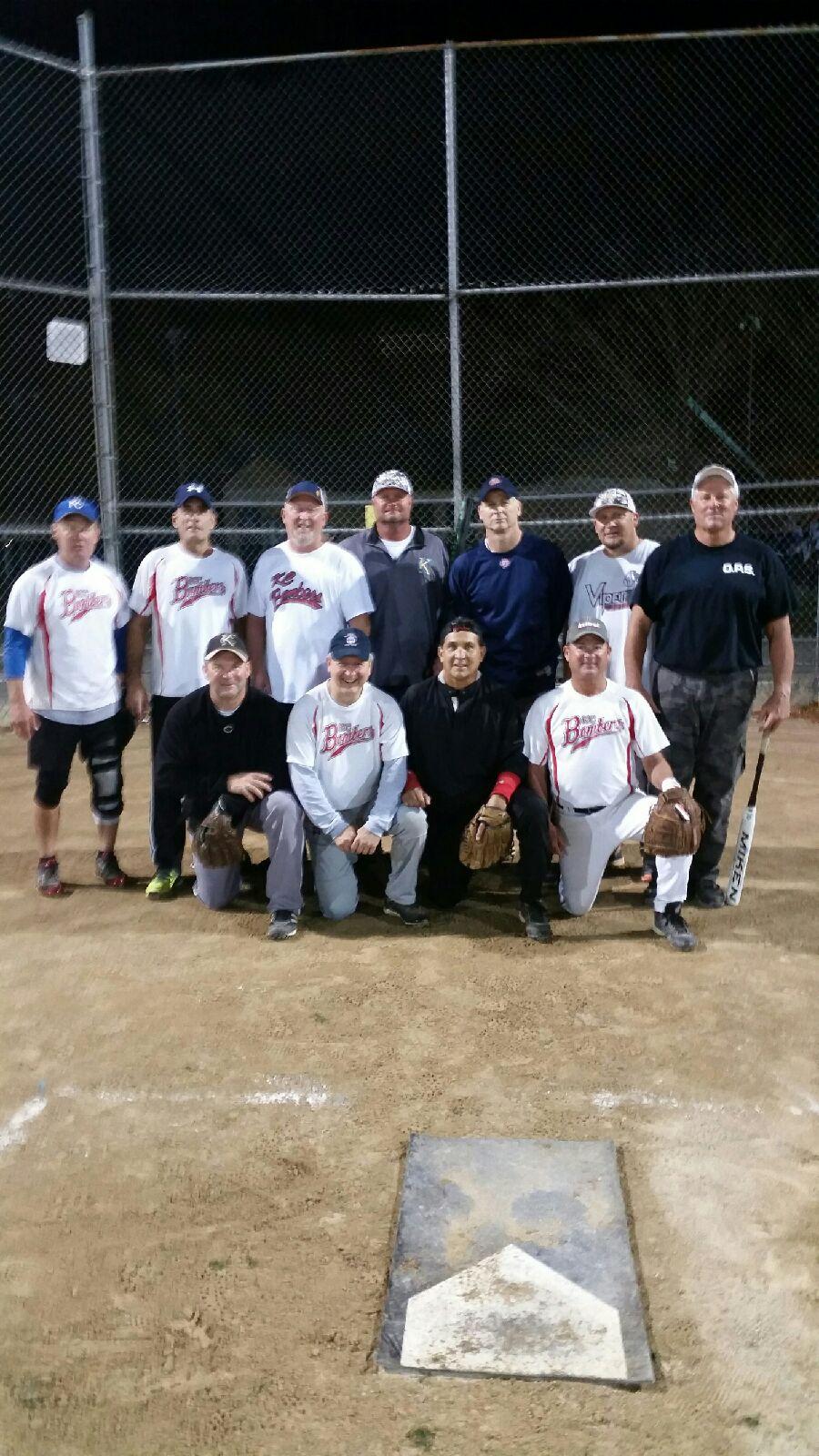 Front row-L to R: Alan Neal, Ray Mattingly, Brian Fitzpatrick, Eric Hugh
Top-L to R: Mark Gruber, Mark Grahm, Abe Abrahmson, Jeff Henning, Rob Hedrick, Craig Ewert, Mike Yancy
---
Senior Men's Sunday Basketball
Hi, I am Chet Stumpf, the 'Commissioner' of the Senior Men's Sunday Basketball group (that has been around for about 10 years or so now).  We are soliciting and looking for some new Core/Regular players this year.    The Senior Men's Basketball group meets on Sunday evenings (6:00 to 7:30) during the winter (mid-Nov to Mid-March) at 68 Sports in Overland Park (near 87th & I-35).  We try to pick balanced teams depending on who shows up each Sunday – basically pick-up recreational full court games.  Most all the senior basketball players are fellow Senior Softballers so the chances are really good that you will already know someone and the range of skills of our basketball players are wide.  The season cost is based on the number of Core/Regular Players we end up signing up (in past years it has been about $60 per person for 14 Sundays for 20 Core/Regular players – well worth the fun, exercise and comradeship for only about $4.50 night).  We realize we all have other commitments so don't feel like you have to show up every Sunday if you sign up as a Core/Regular player, but we'd like to see the Core/Regular players there at least half the Sunday's or so to help ensure we'll always have at least 10 players.
In addition, we encourage and invite Guest players to play on any specific Sundays the Guest would like.  The Guest fee is $6.00 per night payable the Sunday the Guest plays.  We do ask that you send an email notification advising you'd like to be a Guest that week just in the rare event we'd have to many players that week.
The following is our Guidelines for New Players & Guests:  "The new players need to be over 50 and have a good temperament…similar to those already playing (and playing senior softball).  I think we have a good blend of talent and personalities and we do not want to disrupt that balance with anyone that might be either ultra-competitive or highly argumentative…it's simply not worth it for that type of player to be with us or for us to be with them."
In summary, our group is looking for some additional Core/Regular Players (due to attrition and injuries this year and if you join up after the 'season' starts the fee will be prorated).  If you're interested in signing up as a Core/Regular player, want to play periodically as a Guest, or have any questions, please email me, Chet Stumpf at cstumpf@burnsmcd.com<mailto:cstumpf@burnsmcd.com>.  Please reply at your earliest convenience (to aid me in my planning).  Thanks, Chet
PS – the first night is currently scheduled for Sunday 11/13.  Also, we typically do not play the Sunday following Thanksgiving, Christmas, News Years Day & Super Bowl Sunday as we've found most players want to spend time with family or travelling.  Just show up ready to play and bring white shirt and colored shirt for shirts-n-skins.
---
---
League Sheets Website for Online Registration