KC CLASSICS 55+ CHAMPIONS

Bear's Ballers Win 55+ AAA Men's Division
at Midwest Championships With a Record of 6-0
First-Ever Senior Coed League
The first-ever Senior Coed League began June 15th at Hartman Park. The league has started with 4 teams, but they are hoping to grow with exciting new league.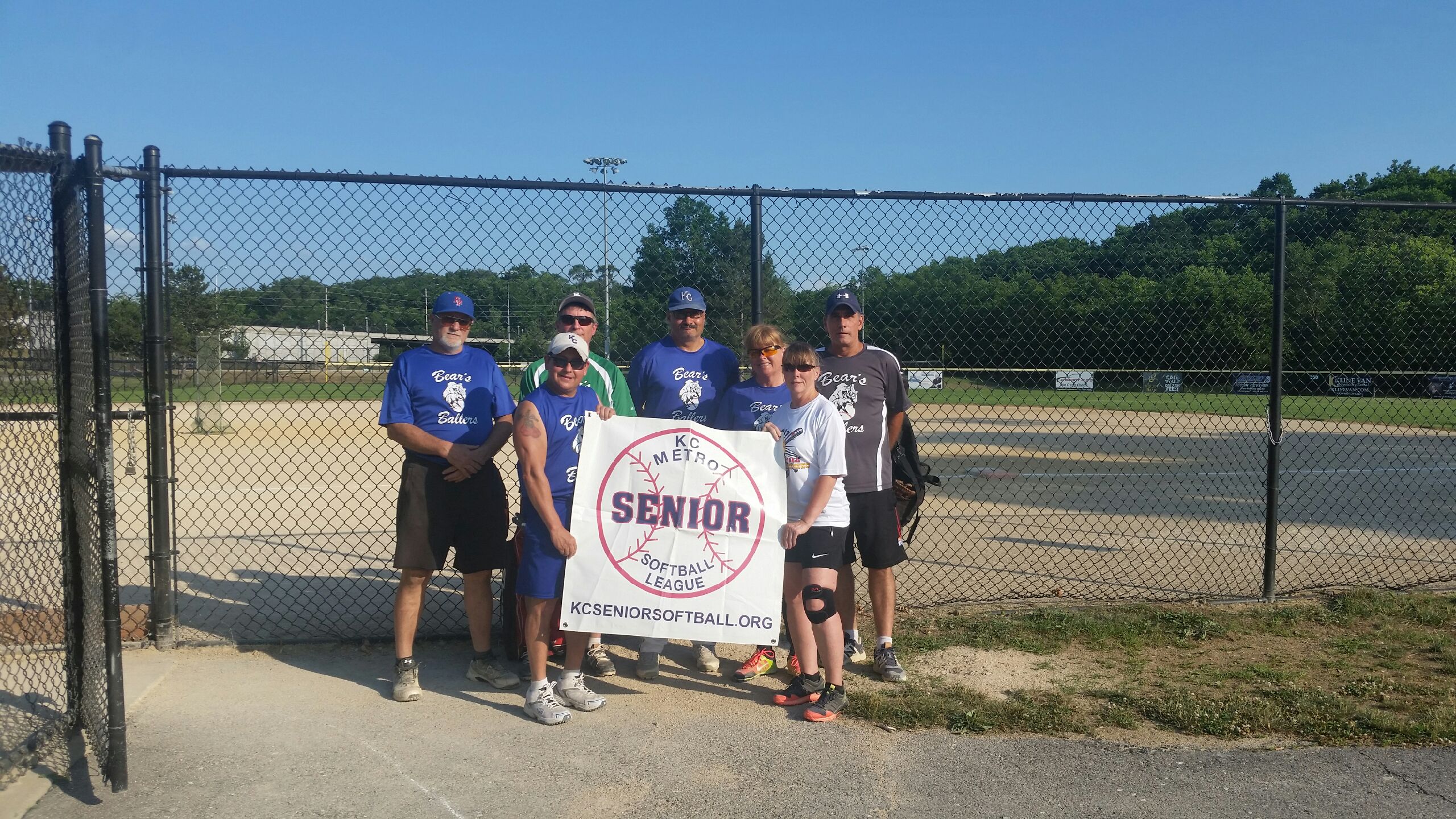 50 Caliber Takes 2nd Place
at SPA Twitty Tournament
in Hendersonville, TN
Above the Law Brings Home Gold
from World Masters
 Twenty-three teams participated in the women's AAA level at the World Masters held from October 6tth through 8th in Las Vegas, Nevada. Above The Law won their three games on Friday but lost their first Saturday game in a 20-19 slugfest with Still Swinging from Nevada. With their backs against the wall, they gamely fought back to win the next two games to stay alive for the Sunday games. It took three wins to earn the right for a rematch with undefeated Still Swinging. After doing so, Above The Law, managed by Brenda Foreman, took both games with scores of 14-10 and 11-10.
Congratulated to Above The Law for winning gold. Still Swinging finished second, with Hawaiian Connect taking third and TABU from California taking fourth.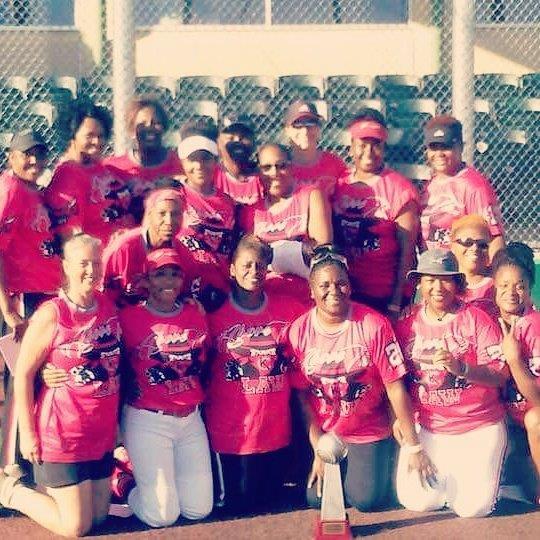 Front row (L to R): Pattie Vanvleck, Della Tolliver, Brenda Foreman, Lisa Walton, Shonte Davis, Gailya Young
Second row: Emma Harris (red scraf on head), Carmon Talley (red/blonde hair)
Third row: Yolanda Mason (white visor), Nicole Spencer (shades)
Forth row: Joyce Hickmon (black visor), Vivion Rodgers, Melissa Carouthers, Ursula Copeland, Stacy Bryant, Patricia Ball, Toy Branscomb
Senior Softball at the K
Diamond Girls vs. Antiques
Monday, April 10, 2017
KC Blues with the Antiques
Monday, July 31, 2017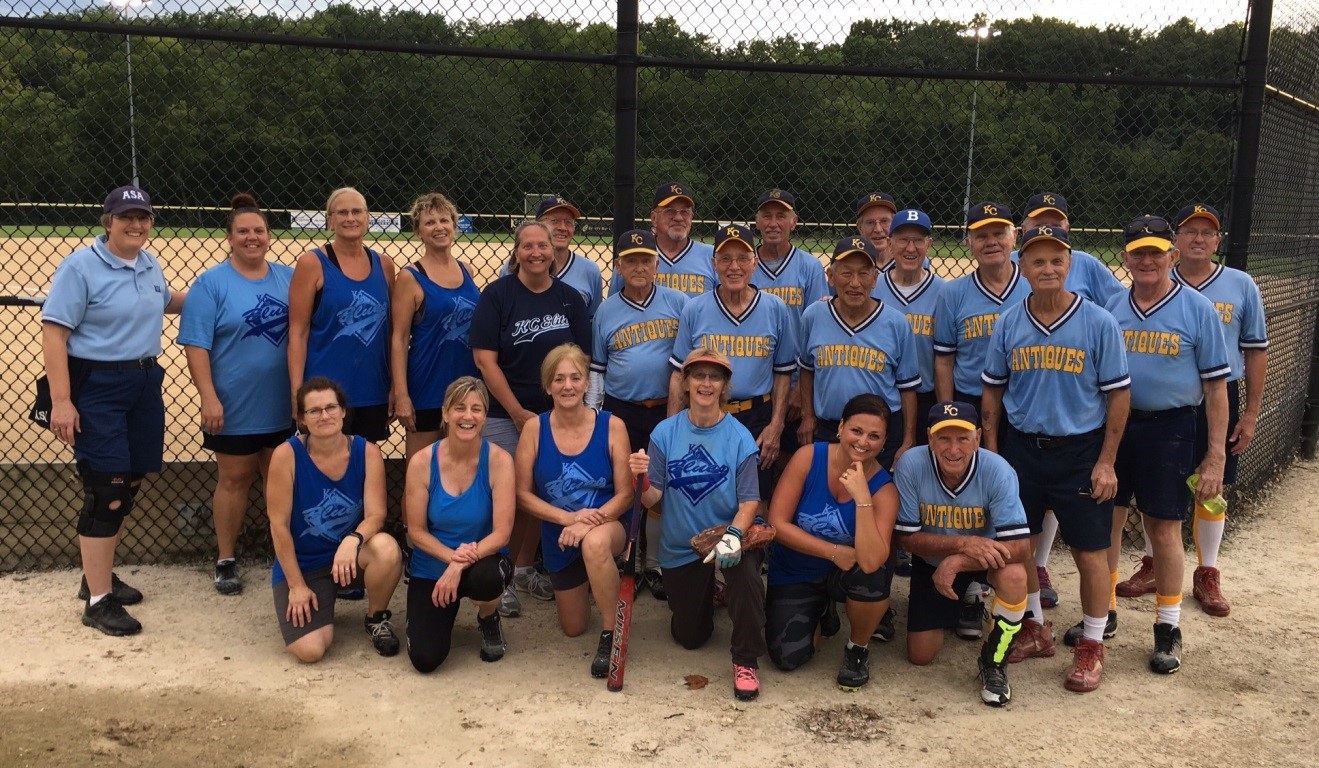 Front Row:  Shelly Graef, Jan Horn, Karen Eastland, Bev Allen, Jennifer Boxberger, Dick Skinner
Middle Row: Jamie Marrs, Sid Wilson, Dale Pitts, Frank Mar, Bill Klinkenberg, Bubba McGuire, Tom Duke
Back Row: Donna McGuire – Umpire, Tina Ellis, Jean Kruser, Sharon Willis, Gary Lathrop, Ted Barclay, Ken Stock, Bob Smith, Marvin Droege  Dominick Allegro
Not in picture: Clyde Jones, Karen Wrigley and Joyce Benedict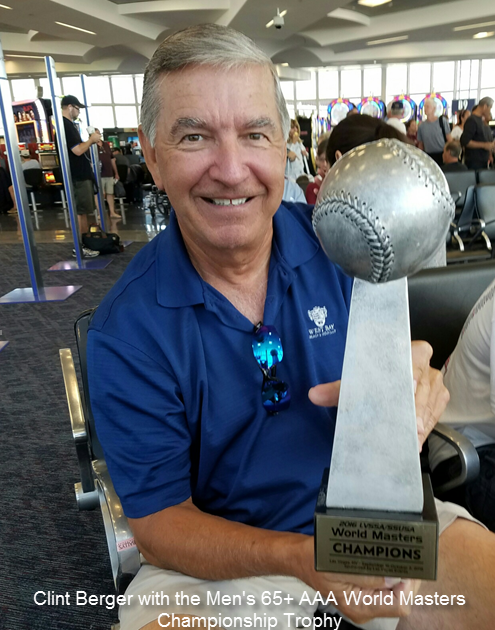 KC Renegades 60 Major
1st place
Midwest Regional Tournament in Rogers, AR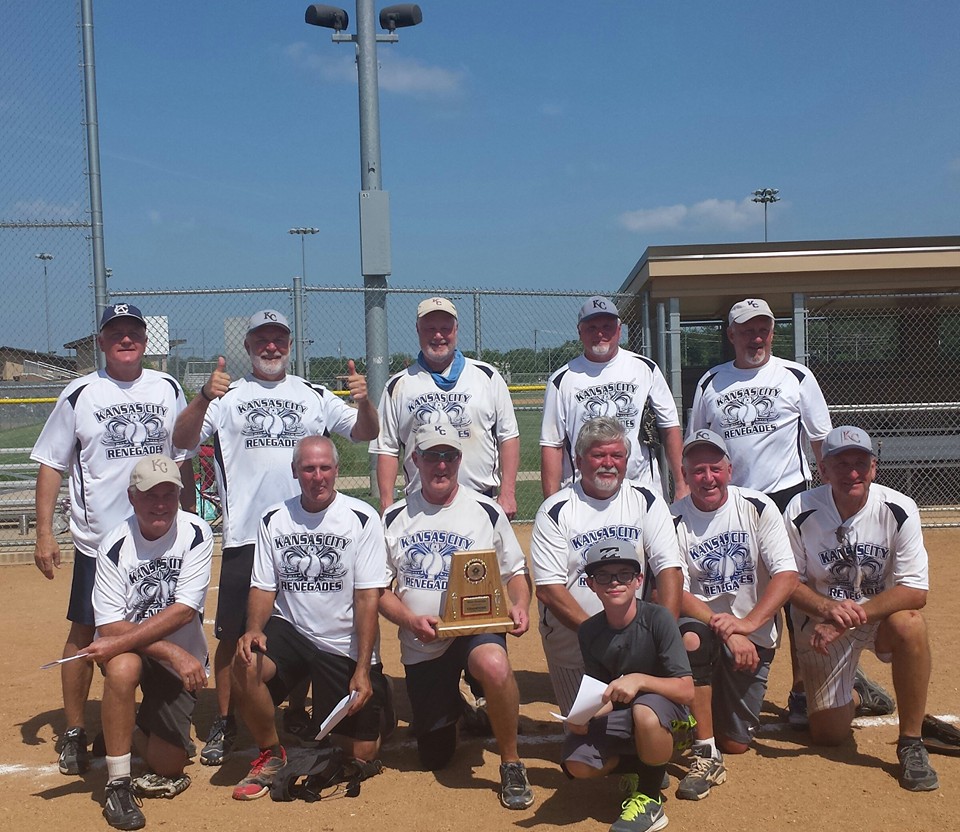 AGELESS WONDERS 60+ SILVER/ BRONZE
BLACKBOB SPRING CHAMPIONS
Back Row (L-R): Bob Arnold; Steve Tuttle; Jody Myers; Larry Hightower; Bill Harris; Rick Dewitt
Front Row(L-R): Jack Dufoe; Ed Soltz; Co-Managers: Barry Gordon & Jim (JJ) Jones; Ron Branan
Missing: Rick Monley; Mike Worthy; Dave Byler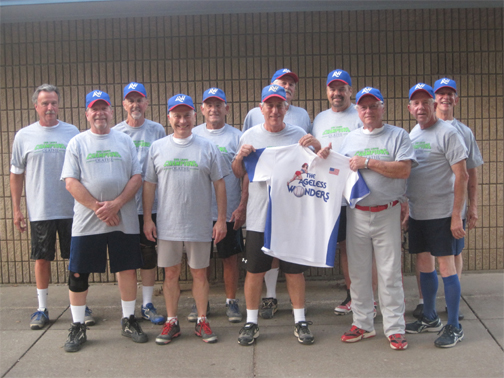 MIDWEST DRIVING SCHOOL TOURNAMENT TEAM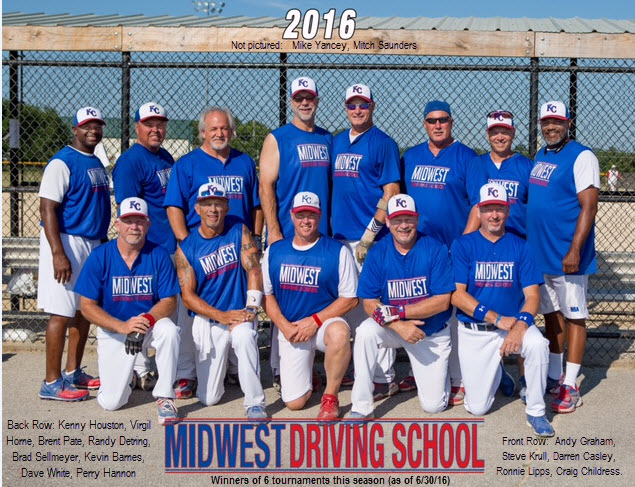 Back Row: Kenny Houston, Virgil Horne, Brent Pate, Randy Detring, Brad Sellmeyer, Kevin Barnes, Dave White, Perry Hannon
Front Row: Andy Graham, Steve Krull, Darren Casley, Ronnie Lipps, Craig Childress.
Not Pictured: Mike Yancey, MItch Saunders
ANTIQUES 80+ TAKE FIRST PLACE AT HOT SPRINGS
The Hot Springs Senior Invitational tournament for 80+ teams was held on June 2nd and 3rd. A total of 4 teams were entered in the tournament, the Antiques played 5 games and won 4, the only loss was to the Texas Classics , a team classified as a Major team. The Antiques were a AAA team, and won that division. We had some rain during the tournament, but the artificial turf on the infield made it possible to play the games.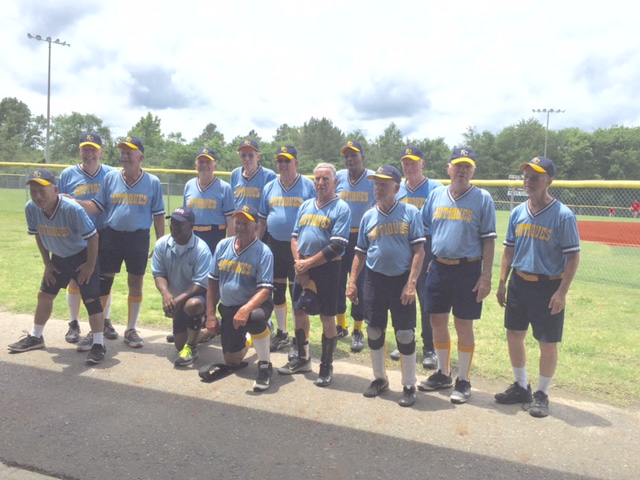 Players in the picture L to R, Frank Mar, Gene Elliott, Don Hutchinson, Umpire, Doug Wilson. Bob Smith, Deane Burgess, Don Kassel, Dick Skinner, Sonny Maynard, Sid Wilson, Roger Gramly, Bill Klinkenberg and Bubba McGuire
---
Silver division All Stars
Victorious Against the 55+ Gold Division

GA Field Force made it to the championship game and took second place in the KCMSSL preseason tournament Apr 9-10.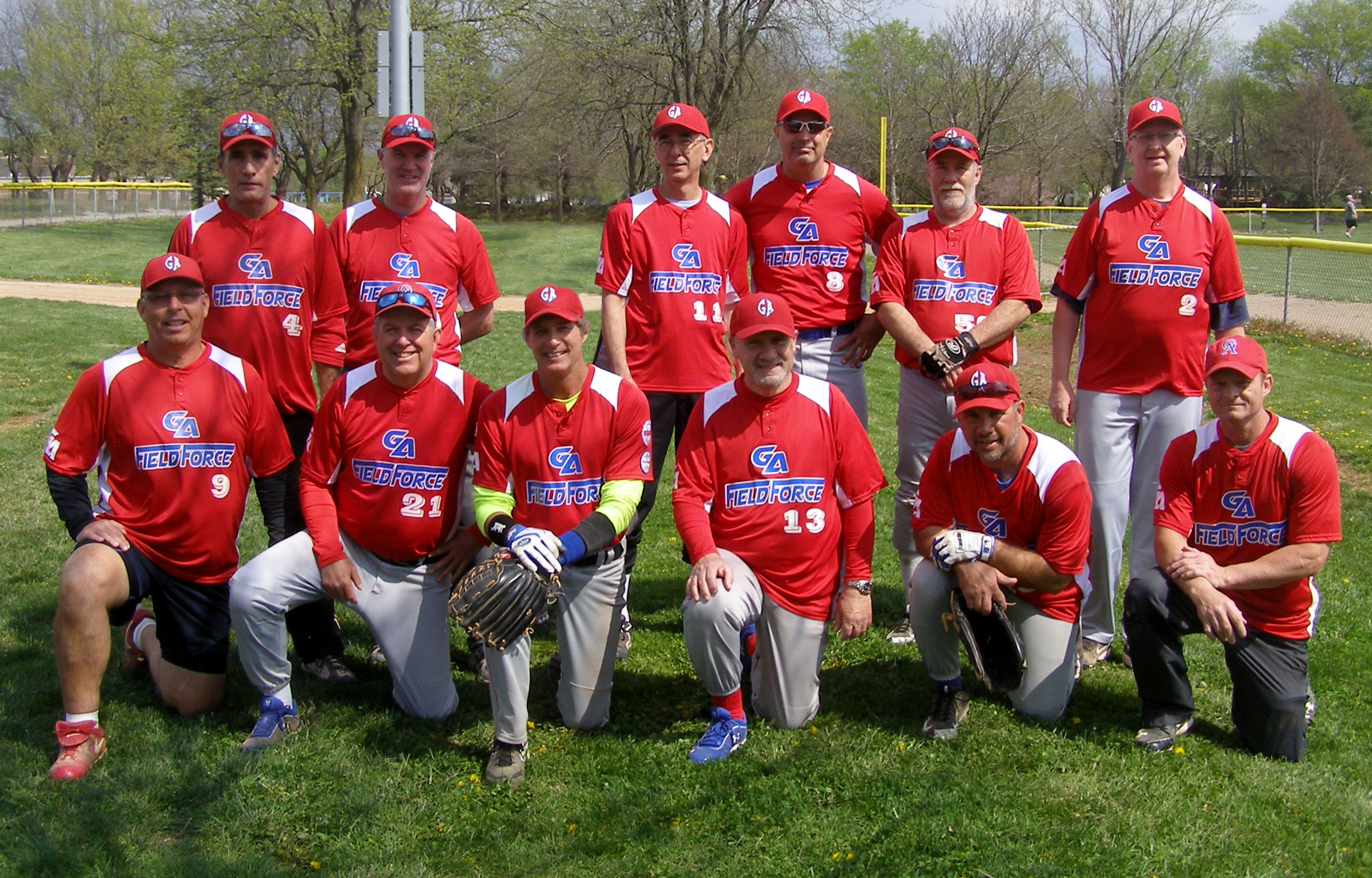 Ageless Wonders 
Gold Medal in 60+ Division at Kansas Senior Olympics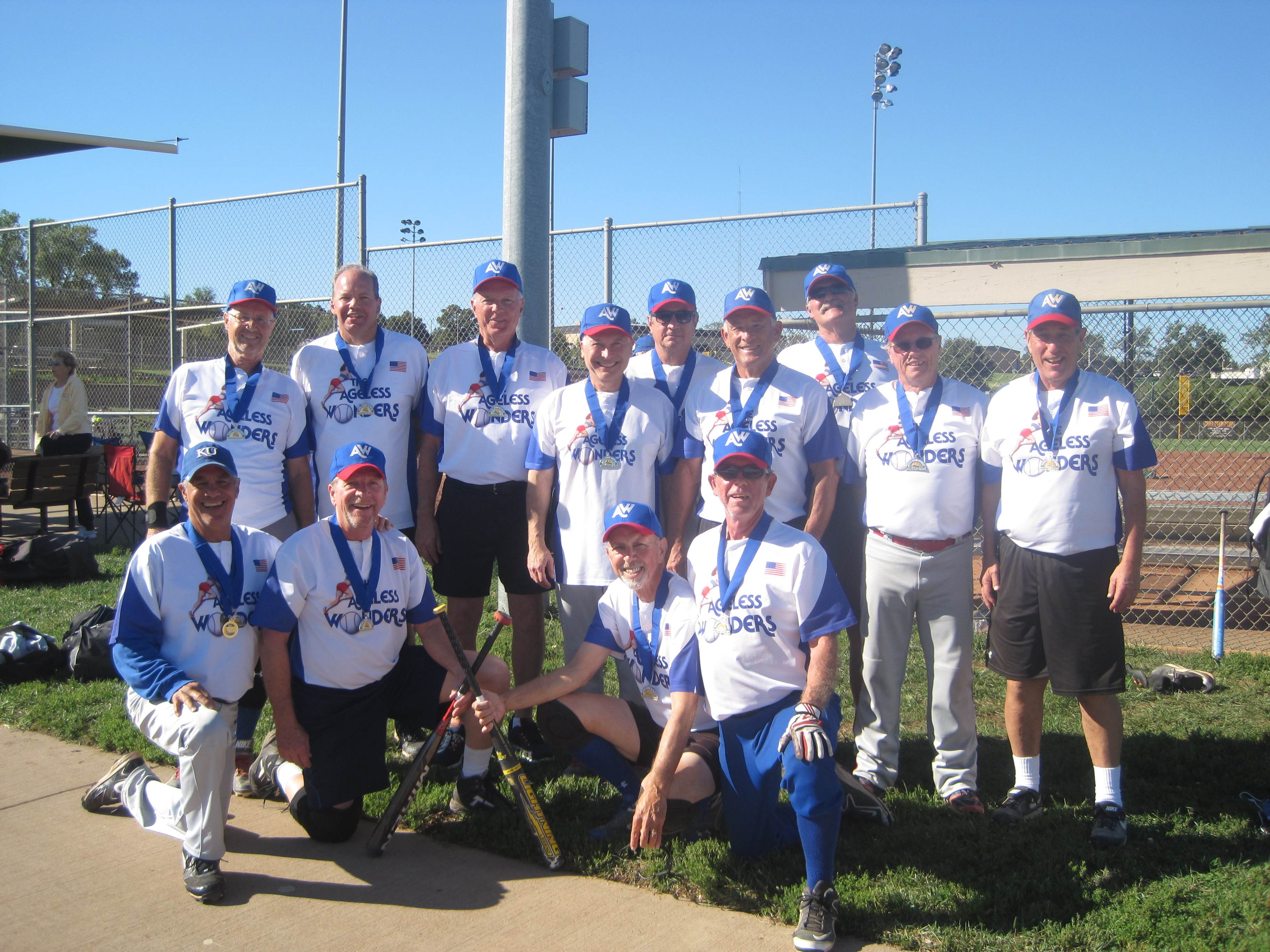 Winner of 60+ Rec Division at Wes Weddle Tournament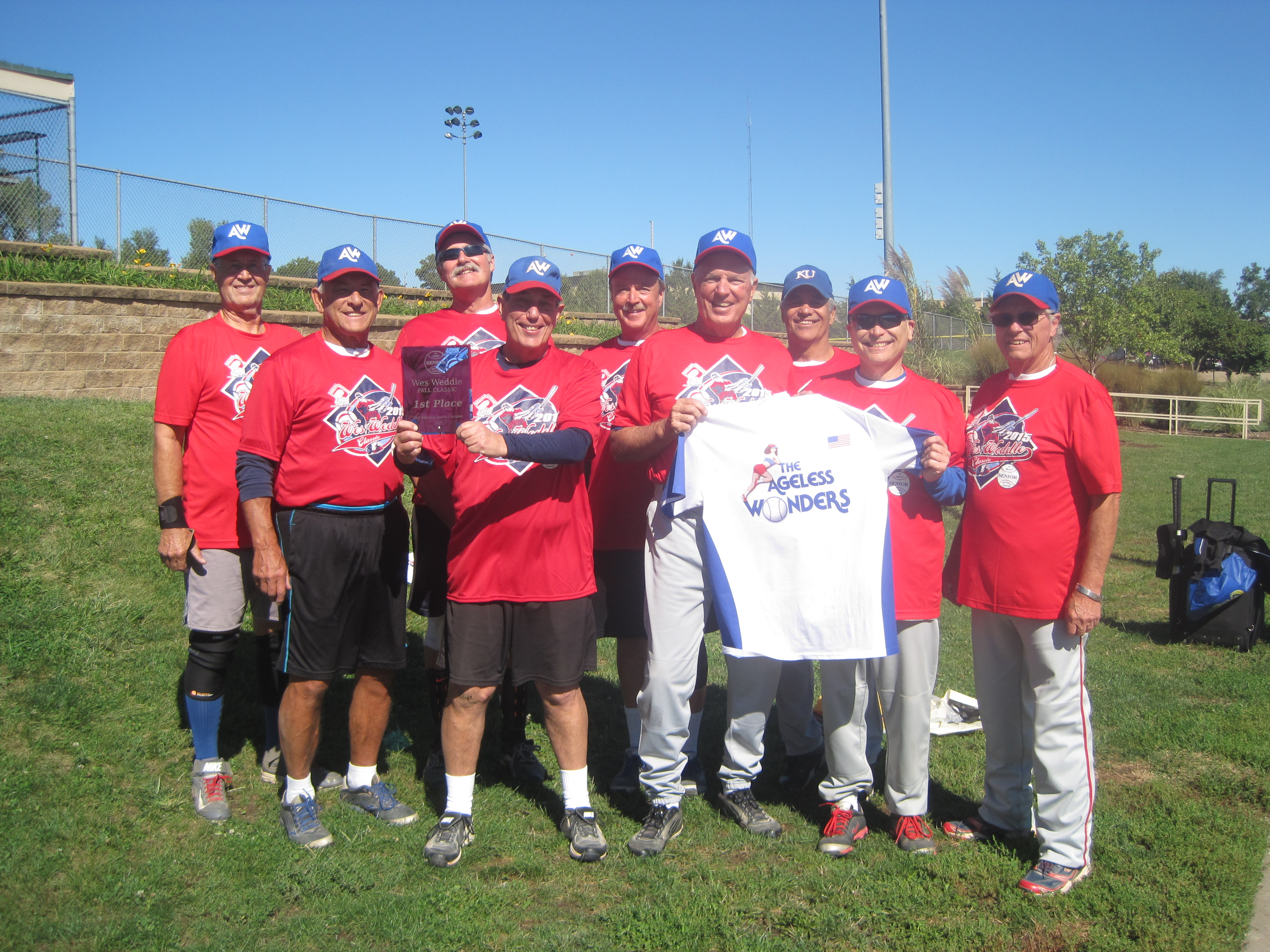 ---
KC Renegades 60 Major
Wins Midwest Championships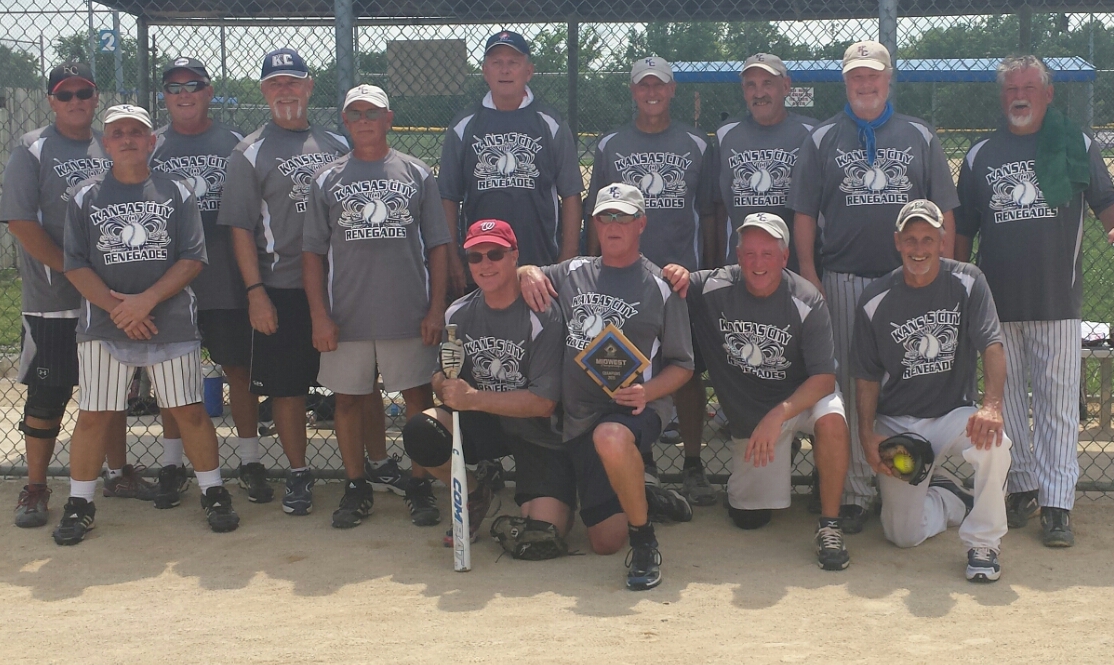 80+ Antiques finish 2nd in the
SPA World Tournament in Columbus Ohio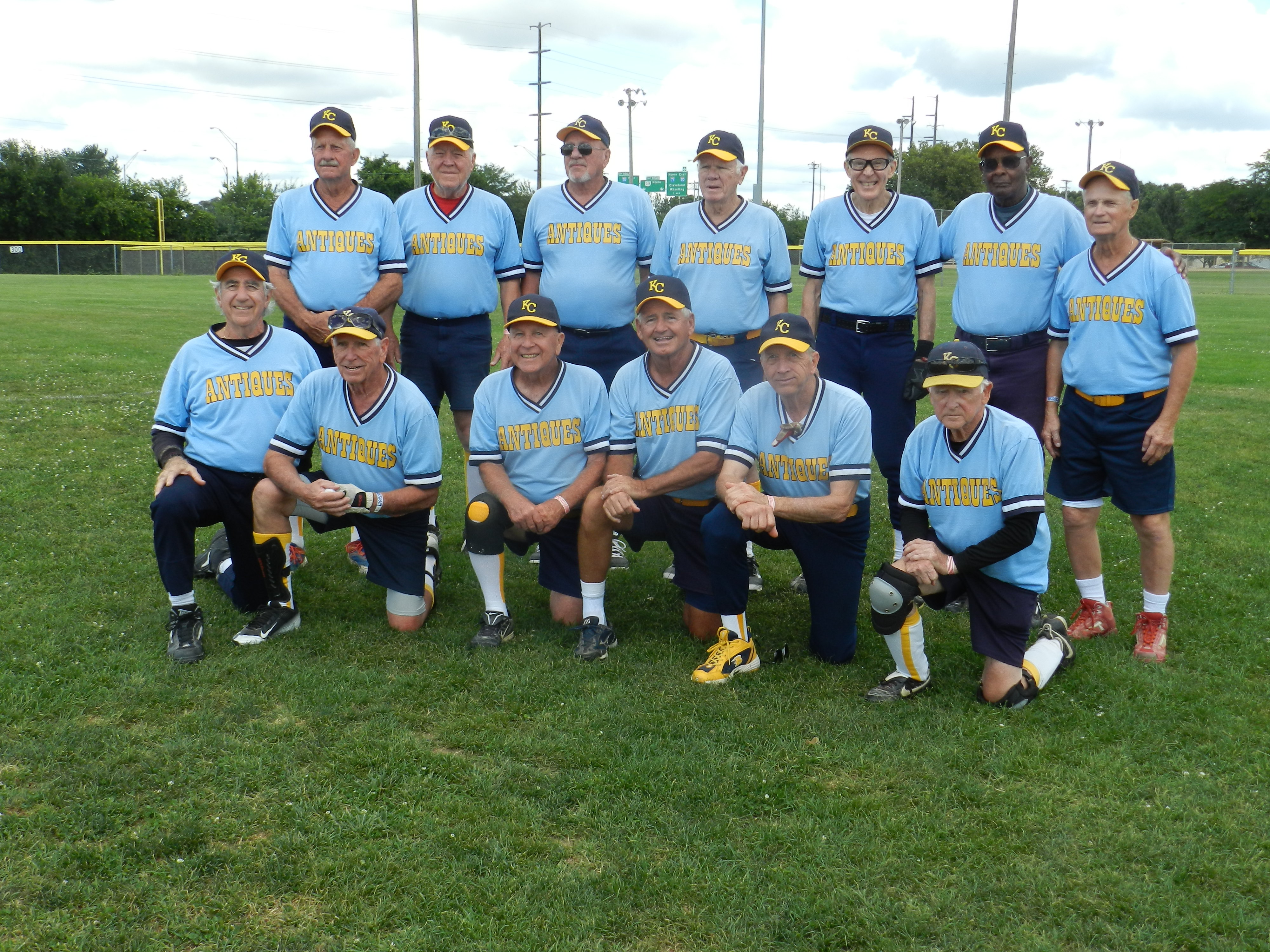 Front row (left to right): Joe Domet, Dick Skinner, Doug Wilson, Dave Banghart, Gary Lathrop, Sid Wilson, and Fred Bankus
Back row: Don Hutchinson, Jon Bryan, Ted Barclay, Bill Klinkenberg, Bob Smith, Sonny Maynard and Clyde (Bubba) McGuire
---
Missouri Open Tournament in Columbia, MO
65+ AAA Champions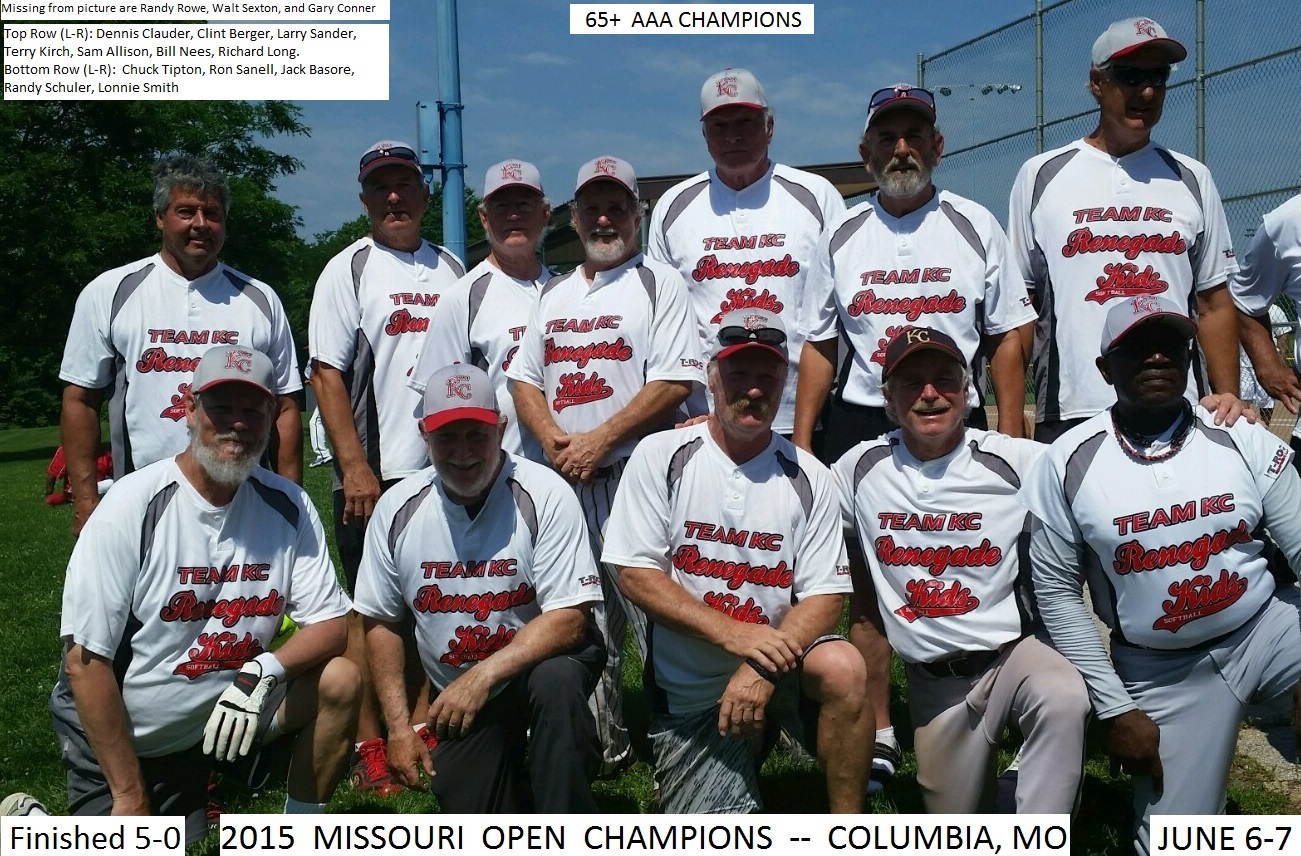 SSUSA Atlantic Coast Champions 2015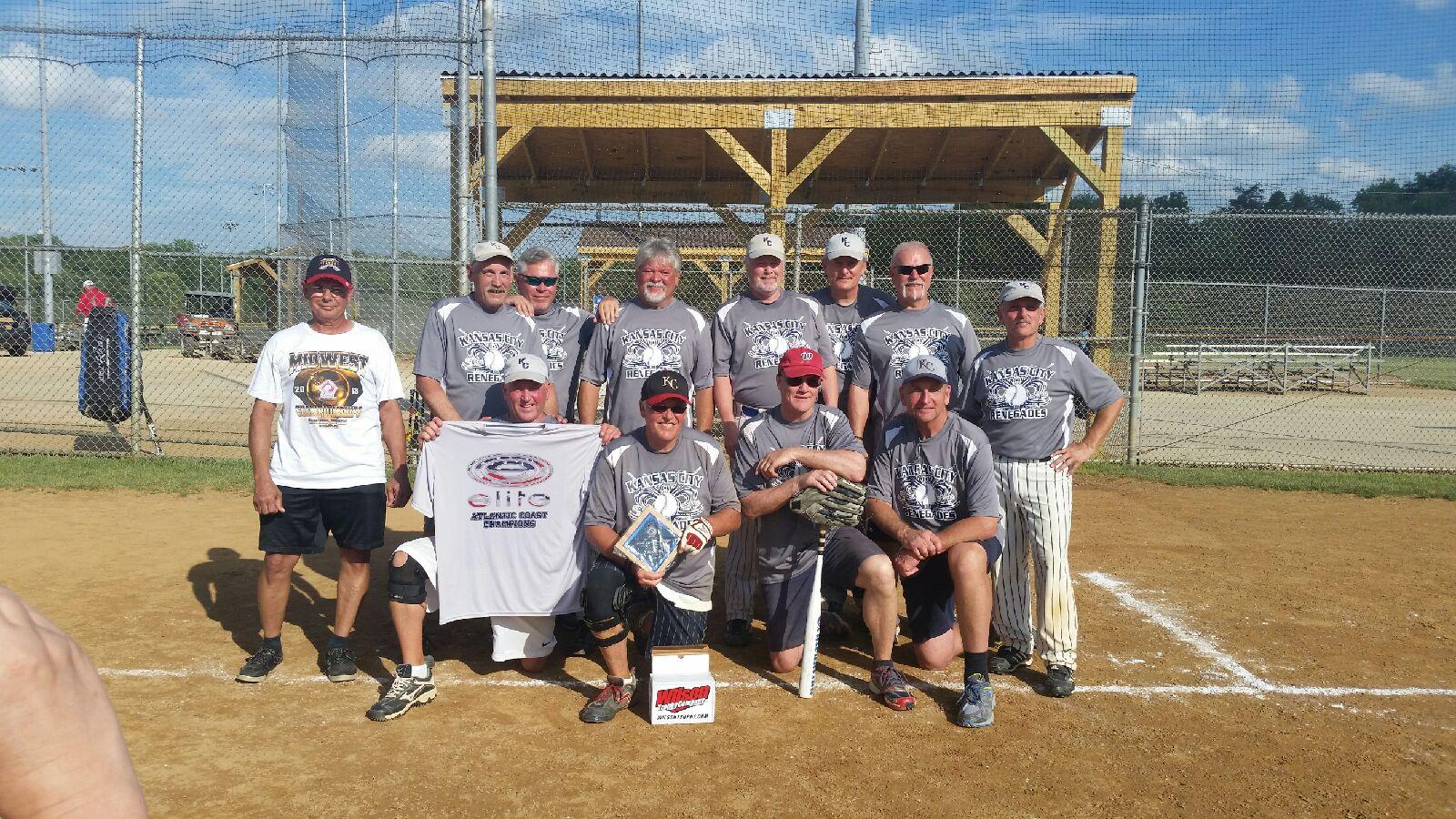 50+ Women's AAA Champions
SPA Twitty N.I.T. Classic


50 Caliber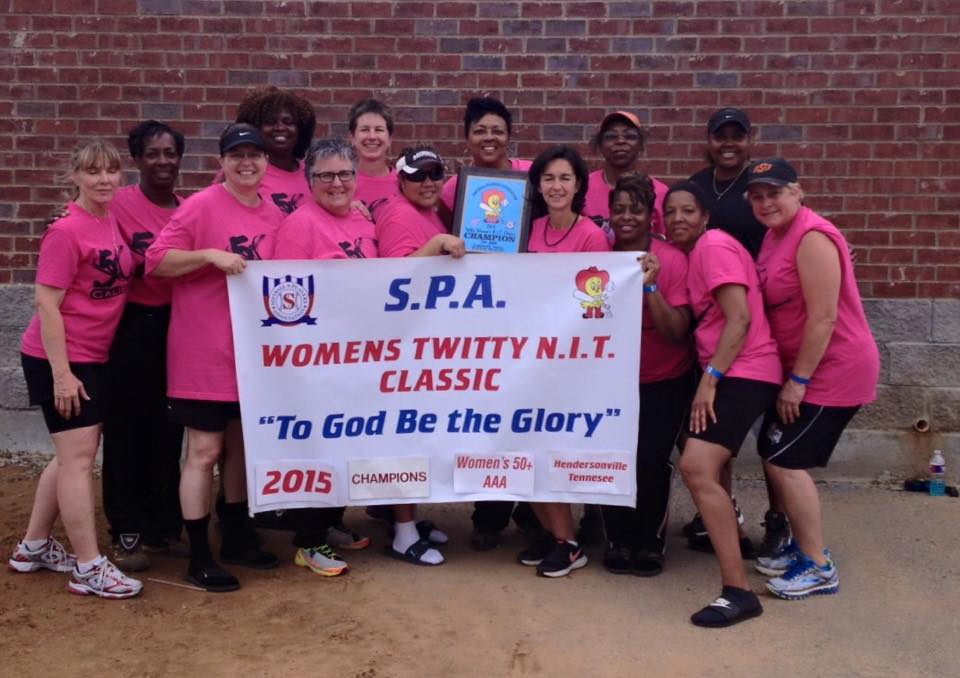 General Admission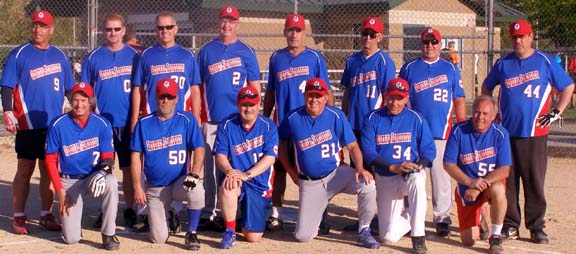 Clyde (Big Klu) Jones, 24 year veteran returns to play Thursday Draft at JCC 9/3 after missing the summer with an illness!
2015 All-Star Games & Picnic

There is no gallery selected or the gallery was deleted.